Notre Dame:Mendoza MBA Admission Essays Editing Tips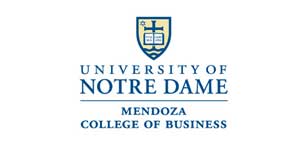 2013-2014
Notre Dame:Mendoza Essay : 1
What are your career plans immediately after graduation? Explain how your past experiences prepare you for your desired position. What are your long-term career aspirations?
Sugested reading:
Writing about your short-term and long-term career goals in MBA Admission Essays
MBA Essay Tips: In what ways do your academic background and recent professional or managerial experience provide evidence of your potential for success in the program you selected and in your eventua
Notre Dame:Mendoza Essay : 2
Mendoza Notre Dame Slide Presentation: Effective business communication is a central skill for managers and visual presentations are an important and frequent method of communication. Demonstrate your ability to clearly, concisely and persuasively communicate important information by telling us about yourself using a short slide presentation. Please consider the following guidelines when creating your presentation. You are free to cover any material about yourself that you think would be of value to the Admissions Committee. Please use whatever software programs you like to develop your presentation but note that the only acceptable formats for upload in the online application system is Adobe PDF. There is a strict maximum of four slides, though you can provide fewer than four if you choose. The slides that you submit will be printed and added to your application file for review by the Admissions Committee. As a result, only text and static images will be seen. Videos, music, hyperlinks, etc will not be conveyed and should not be included. Color may be used. Your goal is to clearly, concisely and persuasively convey key information. Slides will be evaluated on these dimensions and not on graphic or presentation elements. Notes pages will not be accepted. You should plan to convey your entire message on the actual slides themselves. To assist MBA Applicants with the development of their slide presentation, please consult this PowerPoint Guide.
Notre Dame:Mendoza Essay : 3
Optional essay. The Notre Dame MBA Admissions Committee will accept supplemental essays from applicants who wish to provide additional information that has not been captured within other areas of the application. For example, applicants with low undergraduate GPA's may address any circumstances surrounding their performance or applicants who have been dismissed from school may want to consider addressing that issue. Ultimately, we will accept supplemental essays on any topic that you feel is important to the Committee and not contained or explained fully within other portions of the application. Please keep all submissions to one page, typed and double-spaced.
Aplying to Notre Dame:Mendoza?
Why take chances? We offer highly value adding reviewing and editing service for Notre Dame:Mendoza at just $149. Please visit Notre Dame:Mendoza Editing Package to know the details about our service.
Any one essay, 500 words, single round reviewing with detailed feedback for improvement.
What stops You?
Try our services with our Trial Package, at just $25. We are confident that, after the trial you will love our services.
Any one essay, 500 words, single round reviewing with detailed feedback for improvement, no editing.
Offers