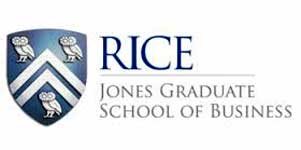 Rice:Jones MBA Essay Tips
Previous
---
Rice:Jones Essay : 1
Describe your short-term and long-term career goals, and how the MBA will help you achieve those goals. Include in your discussion: Why is now the appropriate time to pursue an MBA, and why are you interested in obtaining a Rice MBA? (Maximum 750 words)
Sugested reading:
Writing about your short-term and long-term career goals in MBA Admission Essays
Tips for answering the Why MBA Essay
Rice:Jones Essay : 2
Jones MBA Essay 2 on Team Experience - Describe a time when you successfully transformed an idea into action. How did your leadership and interpersonal skills contribute to this experience, and how will this experience impact your contribution as a team member at the Jones School?(Maximum 750 words)
Sugested reading:
Tips for writing about your contributions to the MBA experience of your peers in the class you join
Rice:Jones Essay : 3
Jones MBA Essays on Self-Reflection : Choose one of the following four essays (Maximum 750 words) Describe a defining moment or event that changed your life. Include its impact on you and how it altered your view of the world.
Rice:Jones Essay : 4
Describe your perfect day. (Assume that you have no financial or other restrictions.)
Rice:Jones Essay : 5
If you were given a choice for a superpower, what would it be and why? How would you use your superpower?
Rice:Jones Essay : 6
What historical event would you like to have witnessed or participated in, and why?
Rice:Jones Essay : 7
Re-applicants essay : Think about the time that has elapsed since you last applied to the Jones School. What actions have you taken to improve your candidacy? (Maximum 750 words)
Rice:Jones Essay : 8
Optional Essay : You may use this essay to discuss anything else that you would like the Admissions Committee to know about you, or to provide information or clarification on one or more aspects of your application. (Maximum 750 words)
Sugested reading:
Tips for Answering the Optional Question in your MBA Application Essays
Writing about hobbies, interests and extracurricular activities in MBA application essays